Welcome to A Taste of France...
Our aim is to organise the best school trips to France.
The programmes of excursions, visits, guided tours and practical activities are designed with one aim: get your pupils fall in love with France.
Teachers tell us that our programmes are the best they've experienced and that their pupils' motivation in the classroom is greatly enhanced after the trip.  Some children say that the trip provided them with the inspiration to study French at A level and beyond.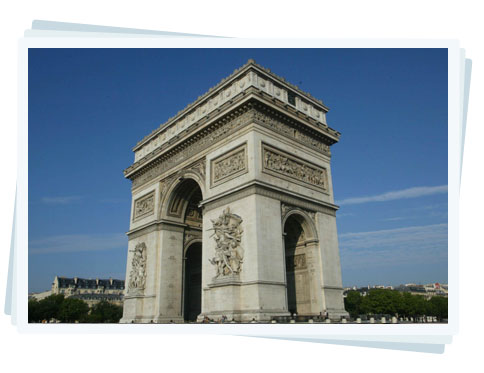 Testimonials
Thanks for all the hard work you put to the trip.  The kids had a great time. The trips were really brilliant; all of the days out were just perfect

N O'Brien: Dereham Neatherd High School, Norfolk

We had a fantastic time on the trip! A member of staff commented that he had been on 9 French trips and the programme you had put together was the best he'd ever experienced.  The food also was particularly good.

L Bradshaw: Wath Comprehensive School, Yorkshire

Thank you so much for organising another very successful trip for us.  The trips we do with you are the only ones  where I don't have hassle.

N Schantz; Sir John Colfox School, Devon

The girls were absolutely delighted.  They have loved all the activities.  They were amazed by the sheer beauty of Giverny.  The highlight of the trip for them was seeing the Eiffel tower and going to  Paris.  It was great to finish with the soirée normande.  The girls enjoyed every minute and the atmosphere that night was fabulous!

A Baude: Aylesbury High School, Buckinghamshire

Thank you again for a wonderful trip!  It was so well done and simply perfect!

S Thaman: Chessington Community College, Surrey

The girls enjoyed the trip very much.  They loved the cookery workshop and also the language lessons.  They liked drawing Cezanne's mountain and this was a great idea.  The high lights of the trip remain in their minds and they certainly spoke and heard a lot of French all week.

Dr C Quirighetti: Cheltenham Ladies College, Gloucestershire

The trip was a great success!  We were all very happy with the accommodation and the food.  Pupils enjoyed meeting Monsieur le Maire.  They had great fun at the four à pain and enjoyed the museum and art workshop.  The very fact that the château is receiving only one school at a time is an excellent strategy from teachers' point of view.

A Ching: Highlands School, London

We all agreed the trip was wonderful.

Janet Lageveen: Katherine Lady Berkeley School, Gloucestershire

Our stay at the château was so fantastic that we are going again next year! The pupils had a really authentic French experience.  The staff at the château was very welcoming, the food excellent and the setting stunning!  We were looking for a real French experience and this is definitely the place!

M Britts: Saint Peter's High School, Stoke on Trent

We had an amazing time in France.  Everybody was really nice to us and helpful.  The children just want to go back.

S Morand: Kesgrave High School, Suffolk

It was an excellent trip! The new things we did this year, the glass works, the bakery and the cider farm were all great and the kids really enjoyed them.  Many thanks for all your help and organization.

R. Johnston: Lady Lumleys School, Pickering, Yorkshire

The trip went very well. Graham, our driver, was absolutely fantastic!  He was the best coach driver I have ever had on a trip. All the outings and evening arrangements were fine and we enjoyed visiting the places you had booked for us.

K Dable: South Dartmoor Community College

We enjoyed our trip very much.  The centre was absolutely fantastic and the programme was simply superb, full of practical activities which the boys really enjoyed taking part in. The boys really got into the dancing and the folkloric group was quite taken aback  by the level of enthusiasm shown by the boys.  If you are interested I would love to to organise another trip with you next year.

D Johnson: Southborugh High School Surbiton, Surrey

Thank you for all your hard work and attention to detail regarding our trip to Brittany.  The students had a lovely time.  The centre was spotless and very appropriate to the requirements of the group.  There were some lovely comments from the students.

C Allen Coombeshead Community College Devon

Our hosts were very welcoming.  The accommodation was perfectly satisfactory and the content of the itinerary was varied and interesting.  It was great for the pupils to have authentic French teaching. I am sure the experience will prove very valuable to the boys.

E Brooks: Central Foundation Boys' School

Thank you again for a wonderful trip!  It was so well done and simply perfect!

S Thaman: Chessington Community College, Surrey

The meals were fine.  The kitchen staff was lovely as usual and they were really organised when we needed to go early. Guides in the Louvre were fine and so was the Circuit du Souvenir.  So for next year, keep exactly the same timings and activities and please book asap.

A Aston: Aylesbury High School Buckinghamshire
high quality school trips